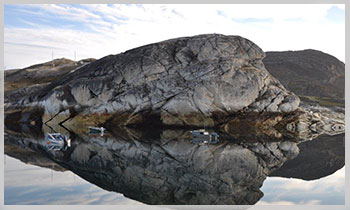 Kimmirut gets its name from the Inuktitut word for "heel" which refers to a rocky hill that rises some 60 meters across the water from the hamlet. Today, there are about 425 individuals living in Kimmirut, and nine out of ten people are Inuit. Both English and Inuktitut are spoken in the hamlet. The terrain of Kimmirut is among the oldest on the planet, sitting on a variety of metamorphic rock formations. The harbor has very powerful tides, with water levels varying by as much as 11 metres (36 feet). During the winter, this can produce spectacular and brilliant blue ice shelves in the harbour.
During the summers, there are very long days with up to 16 hours of sunlight, and temperatures ranging between 5°C and 20°C. As there is little rainfall, the area sees very few mosquitos. The sea ice begins to break up in June. Winters set in around October, when snow begins to accumulate. Winter temperatures range from -15°C to -40°C.
The optimal time for a winter season visit is mid-March to mid-May; the earlier part being on the colder side and the later part on the spring side, with more daylight. For summer activities, July and August are the optimal months for all land and water activities. The first half of September can also be beautiful but the temperatures are a little cooler and the days a little shorter.
Some further facts about Kimmirut:
Location: Latitude 62° 51' N
Longitude 69° 53' W
Elevation: 53 meters
Local Holidays: Kimmirut Day (January 2) and Hamlet Day (April 1)